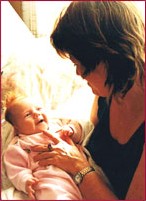 Louise is a mother, midwife and childbirth
educator and is passionate about providing childbirth education
Hi, I'm Louise Luscri and I am a mother and a midwife and I live in Sydney with my family.
Working with women and their partners during pregnancy is my passion and this passion means my work as a midwife and educator is very rewarding and not 'just a job'. I have been a registered midwife since 1987, am a certified childbirth educator with the National Association of Childbirth Educators and a registered calmbirth® practitioner. I have been teaching birth education for the past 15 years.
Having a baby is a life changing episode and you may feel a little over whelmed by the vast amount of information that is available. To help expectant parents through this exciting, but occasionally stressful, time I share unbiased and evidenced based information through my educational courses and workshops. As well as running courses I continue to work  as a midwife part time.
Education is important to me, and I completed my Master's Degree in Midwifery in 2013 at the University of Technology, Sydney. I hold a current Certificate IV in Workplace Training and have presented at National and International midwifery and calmbirth® conferences. I have been a volunteer for many years with Childbirth Education Association of NSW, now CAPEA, as the Professional Development Coordinator running workshops and professional development days in NSW and treasurer.
I look forward to meeting you at one of my courses; please feel free to contact me if you have any questions that are not fully answered on this website.
Louise
Professional Associations, Positions and Memberships include:
Australian College of Midwives
NSW Nurses Association
NSW Midwives Association
National Association of Childbirth Education (NACE)
Executive committee member of calmbirth®